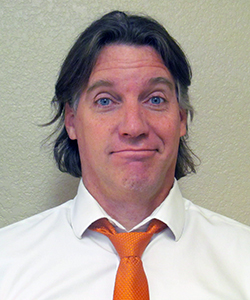 Jay has over thirty years of social service experience working with children, adults and families. He has a Master's in Social Work from California State University, Los Angeles and a Master's in Business Administration from California State University, San Bernardino. He firmly believes that everyone has capacity to transform their lives.
Carla has been with SPBHS for over 15 years, starting as the Accounting Supervisor, and moving into the Chief Operating Officer role during her tenure at the agency. Her background includes holding management positions in financial departments at savings banks in California and Washington, as well as an Accountant position at Premera Blue Cross in Washington. She was born and raised in Southern California, and moved with her husband to Washington, then to Alaska. Carla holds a Bachelor's degree from San Diego State University. She enjoys spending time with her husband and her dogs, and they spend as much time as possible in the summer in their RV exploring Alaska and Canada.
Lise Klein-Kirsis
Clinical Director
Lise discovered an interest in crisis mental health work while doing an initial training as a hospital chaplain at Massachusetts General Hospital in 1999. When she returned to Anchorage, she started work with Anchorage Community Mental Health in their Crisis Respite Program. She has always maintained an interest and a passion for working with individuals and families who are just starting on their journey of living with mental illness; which often starts in a crisis, or emergency room, or psychiatric hospital. Meeting the client and family in that environment "well" can help the individual traverse through the early stages of coming to terms with living with that mental illness, and seeing that there is hope and recovery is attainable. Her training is bio-psycho-social and she holds degrees in biology, anthropology and is a Licensed Professional Counselor (LPC). She has worked for SPBHS since 2006, as a mental health clinician, and for the last three years as our Clinical Director.
Lisa Harbold Pitta
Community Services Director
After providing mental health, developmental disability and substance abuse services in residential and community settings across the border of Alaska and Canada, Lisa began at SPBHS with the adult rehab program as the Activity Director. While difficult to leave the clients, she joined the Child, Adolescent and Family program. Later she joined the PRIDE program as the state of Alaska initiated a series of significant changes and worked with the dedicated staff to minimize the effects on those served. Now she strives to tie the programs together toward the most optimal experience and outcomes for clients and staff.
Carol Barrett
Quality Improvement Director
Carol Barrett, Quality Improvement Director, has worked at SPBHS since 2003- starting as Executive Assistant. Carol moved to Alaska from Oregon in 1992 where she was a Certified Chemical Dependency Counselor. She lives "off the grid" in a cabin she and her husband built. Family, gardening, fairy lights, chocolate and tie dye all make her feel good.